Student Aid/Scholarship Programme
The following criteria is applicable for Grades in all O Level Subjects excluding Pakistan Studies, Urdu, Islamist &  Religious Studies.

Cedar is a firm believer of giving each and every deserving individual a chance to be part of its student body. However, there is a possibility that some potential students may not have the financial means of funding these two-year studies as they are expensive and work round certain budgets for on-school facilities, CIE registrations, off-campus trips, and more.
This is exactly why a system of financial assistance and scholarships has been set up - with hopes of catering to those dedicated and hardworking individuals who deserve a chance to study in the A level college. By providing financial assistance and scholarships we accommodate deserving students, and help expand their intellectual horizons. Like any other educational institute, Cedar focuses on giving opportunities to candidates based on their financial constraints, educational backgrounds, and merit.
To analyse the eligibility for every student, Cedar has set certain rules that all students (part of the scholarship and financial assistance plan) must comply with. For those lucky students who manage to clear the criteria for scholarships, Cedar gives ample leeway to even aim for a fully-funded 100% scholarship! There is nothing more fulfilling than knowing that individuals who are exceptionally talented, academically bright, and more-than-deserving are getting a chance to work and prepare for their future.
Apart from managing an 85% attendance, students are also expected to maintain a B grade average in all their courses. Failure to do so will result in Cedar revoking its former offer. The school believes that this is fair to other students as well; those who may not have opted for financial assistance but are still struggling to afford premium-level education. These rules have only been devised in order to create a sense of responsibility, not only on Cedar's end, but also on that of the students'.
Scholarships Overview
Cedar tries its best to accommodate deserving students who have applied for scholarships or financial assistance.
Students who have received scholarships and financial assistance are held to higher standards of academic performance and behaviour.
It is expected that students on scholarship or financial assistance will act as role models for the Cedar student body, demonstrating the practice of Code of Conduct values in all their actions.
Students on scholarship or financial assistance must meet the school's 85 % attendance requirement, and maintain a B grade average for the duration of their time at Cedar.
Scholarships and financial assistance awards will be rescinded if students do not meet the academic, attendance and behavioural expectations outlined above.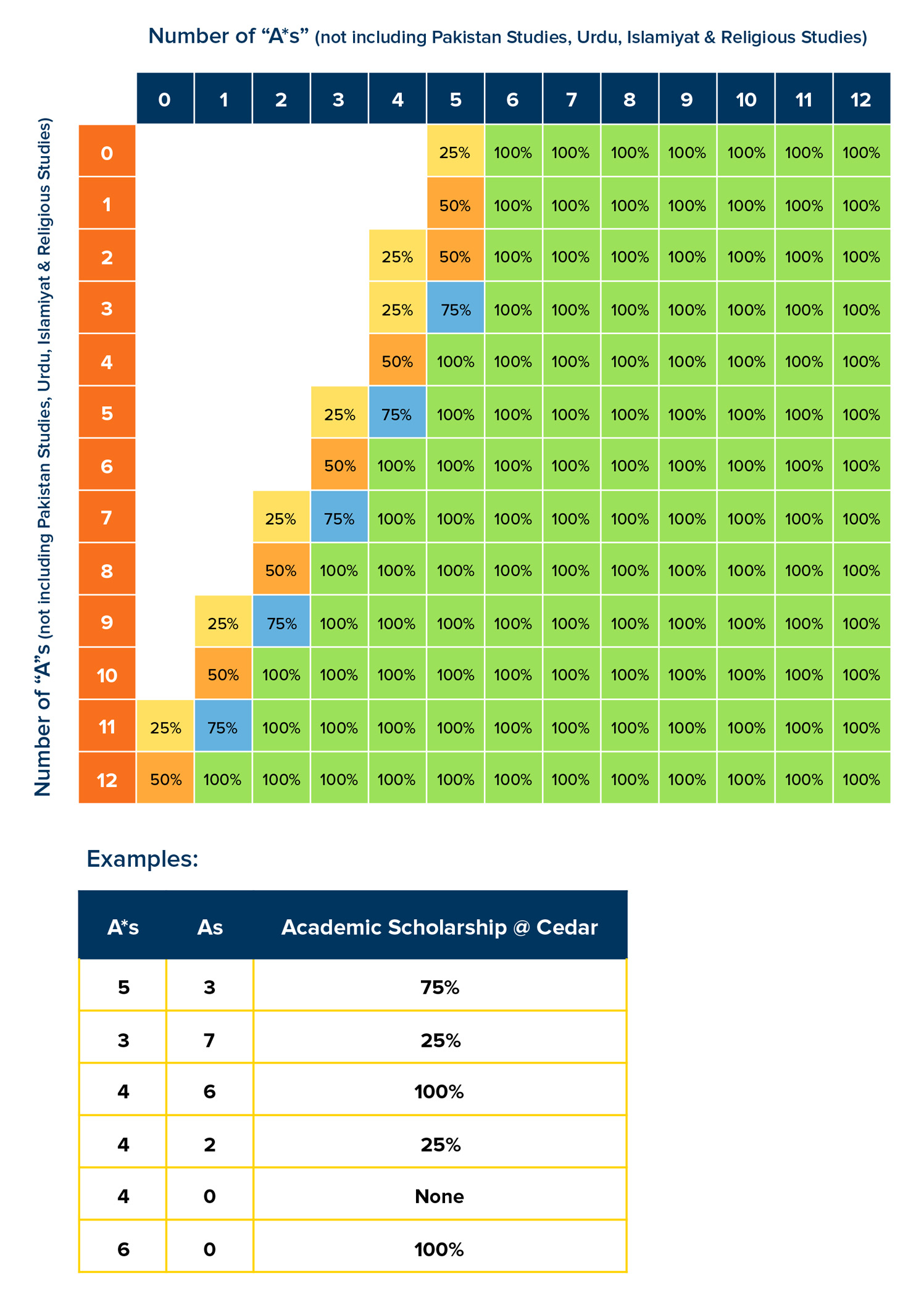 We can't wait to welcome you!